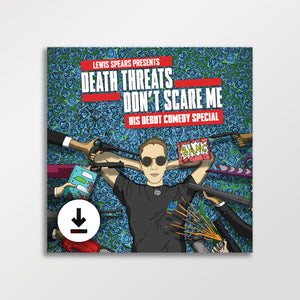 "YOU WON'T BE LAUGHING WHEN YOU'RE DEAD"
Australian comedian Lewis Spears is infamous for his confident, dark and dangerous material.

His live shows have been campaigned against by media professionals and earned him thousands of Death Threats from the easily offended.

Luckily, they've also earned him thousands of ticket sales.
After the worlds largest successful crowdfund for a comedy special, it's your turn to see what everyone's talking about.

Recorded live from his hometown in Melbourne,
23 year old Lewis Spears proves why he is one of the fastest rising young stars in Australian comedy.

If you can handle jokes about tsunamis. drugs and sex with amputee lesbians, watch this special.

But before you do, Lewis asks just one question of his audience…

"Did you guys hear about the accident that happened at Dreamworld?"


*PLEASE NOTE: This purchase is linked to you in several ways. 
If the system detects link sharing or multiple person access you will be automatically locked out.
Independently funded and released projects like DTDSM are only possible with your support, if you'd like to share the special with a friend, watch it with them in person or direct them to this page to buy it for themselves.