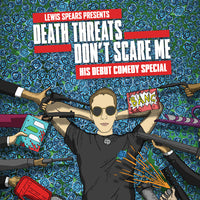 "YOU WON'T BE LAUGHING WHEN YOU'RE DEAD"
Australian comedian Lewis Spears is infamous for his confident, dark and dangerous material.

His stand-up comedy has been campaigned against by media professionals and earned him thousands of Death Threats from the easily offended. Luckily... they've also earned him thousands of ticket sales.

If you can handle jokes about tsunamis, drugs and sex with amputee lesbians, watch this special. But before you do, Lewis asks just one question of you…

"Did you guys hear about the accident that happened at Dreamworld?"
watch it now  ▶️
3 YEAR ANNIVERSARY RELEASE
comments from our satisfied customers!
I see you're performing at the Gold Coast.
I'm going to be there...
With a knife

John, Twitter
We'll see who's laughing after I'm done with u. 
Say goodbye to ur family

Keigan, Facebook
Catch ya later, cu -